Five months after launch, the Nintendo Switch is alive and well. Not only is it currently outselling Xbox One and PlayStation 4 month over month, but the Switch eShop was recently graced with its 100th game. With roughly four and a half months left in 2017, there are still many great games on the horizon for Switch owners to enjoy. Here are our top five most anticipated Switch titles for the remainder of 2017.
5. Fire Emblem Warriors
Release date: Q3 2017
I've always been a fan of the Dynasty Warriors series (perhaps better referred to as Musou-style games) since Dynasty Warriors 2 on the PlayStation 2. Koei Tecmo has come up with many variations on this style of game, but only within the last few years has the developer teamed up with Nintendo to include Nintendo IP into the fold. 2014 gave us Hyrule Warriors on Wii U, and in 2016 we saw Hyrule Warriors Legends on 3DS. Now, Nintendo is giving the Musou treatment to the Fire Emblem series, and I couldn't be more excited for it. Hyrule Warriors was fun in its own right, but I think Fire Emblem Warriors will be more conducive to the lightly tactical, hack-n-slash gameplay offered up by the Dynasty Warriors series. We're likely to see characters from various games in the Fire Emblem series, and the fact the weapon triangle system will be included will certainly add an additional strategic layer that will help this title stand out from other Musou-style games.
4. The Elder Scrolls V: Skyrim
Release date: Q3 2017
Before you say "Hey! That's a six-year-old game! Get that off this list!," hear me out. Yes, Skyrim is a six-year-old game, but that doesn't mean it has nothing unique to offer on Switch. Not only will we be getting Link's green tunic, the Master Sword, and the Hylian Shield, but having a fully featured version of Skyrim on the go, to me, is worth purchasing the game a fourth time (I have it on Xbox 360, PC, and Xbox One). While it's safe to assume the Switch version of Skyrim won't be the Special Edition, just having a portable version of Skyrim will enable me to sink another inordinate number of hours into the game…and that's not even taking into consideration the added motion controls. One might argue that motion should have died with the Wii, but depending on how responsive it is, I may very well be interested in taking up sword and board with a new character, or trying to snipe an unsuspecting enemy with a bow using motion. Even if motion controls prove finicky, this is definitely a day-one purchase for me.
3. Nine Parchments
Release date: TBA 2017
Ever since the days of Champions of Norrath and Champions Return to Arms on PlayStation 2, I've been yearning for an isometric, couch co-op fantasy RPG, and I think I've found it in Nine Parchments. Though this title's combat focuses solely on magic (which I'm totally ok with), it looks diverse enough to warrant multiple play-throughs with different characters. Diablo 3 scratched that itch for a while, but its low difficulty curve somewhat mars the experience. In the case of Nine Parchments, we still don't have many details regarding whether or not co-op is drop in/drop out, local vs. online play, etc., but it looks to be the perfect game for Switch that I could easily see myself sinking many hours into.
2. Rocket League
Release date: Q4 2017
I've spent countless hours in Rocket League on PlayStation 4 (even though I tend to get in the way of my teammates more than anything—shoutout to @ncbjd), and when I first heard about the game coming to Switch, I lost my shit. This is the perfect game to port to Switch, and one I've been championing for a while now. Not only will the wicked ease of popping off the Joy-Cons for some immediate split screen action be great, but the portability factor of this game will be phenomenal. Just think: when you're at home, dock the Switch and play some online matches. Want to keep the game going in bed (or on the toilet)? That works too. And if you find yourself bored during a commute or on a flight, it works perfectly in offline mode. So far, people who've tried Rocket League on Switch say it feels like…well, Rocket League, and if that isn't the best kind of assurance, I don't know what is.
1. Super Mario Odyssey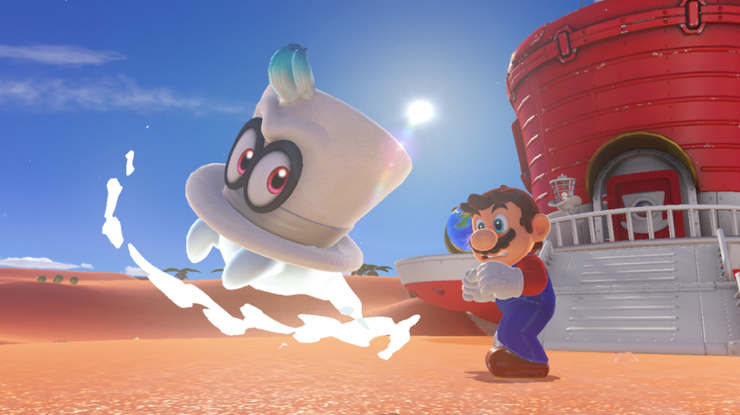 Release date: October 27, 2017
No other game is more fitting at the number one spot than Super Mario Oddysey. Sure, it might not be the most original choice, but come on, doesn't it make the most sense? To be honest, I've been on somewhat of a media blackout on this game, since I don't want any story or gameplay moments spoiled for me. But, from what I've seen of the ridiculously named New Donk City and some of the early revealed gameplay mechanics, I'm assured it will have been worth the wait. We haven't seen a "proper" 3D Mario title the likes of Super Mario Sunshine and Super Mario Galaxy in quite some time, so it's safe to say we're due for one, and Odyssey seems to fit the bill perfectly.
What do you think of this list? What are your top 5 Switch games for the remainder of 2017? Let us know in the comments below!